Residential Doors

As a local industry leader in residential garage doors we have more colors and styles to choose from compared to the competition. From traditional steel doors to steel carriage house collection, Garage Tech has a perfect door to match your home's architecture. Our aluminum garage doors are perfect for today's contemporary and modern homes, while our beautiful traditional wood carriage doors will enhance your home's beauty, creating a stunning and lasting first impression for your guests.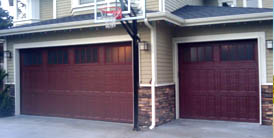 Affordable repair services
We are a specialist when it comes to replacement, repair and installation of a full line of residential, commercial, and industrial overhead sectional and rolling doors. Regardless of the size of your door, we have a pre-made or custom solution that will fit perfectly and enhance the appearance and value of your property.
We offer competitive repair services, including cable off repair, wheel off repair, door off track, bent tracks, balancing, hardware replacement (hinges, springs, tracks, wheels) and general residential and commercial maintenance services.
Contact us today to request your free estimate.